Shopping hungry opens the door to temptation. Not only are you more likely to be tortured by all the sights and smells of the store (go ahead and try to resist the bakery!) but scientists have uncovered that your empty stomach may push you towards unhealthier foods. According to Live Science, studies show that individuals who shopped hungry purchased more high-calorie items than those who ate before their grocery trip.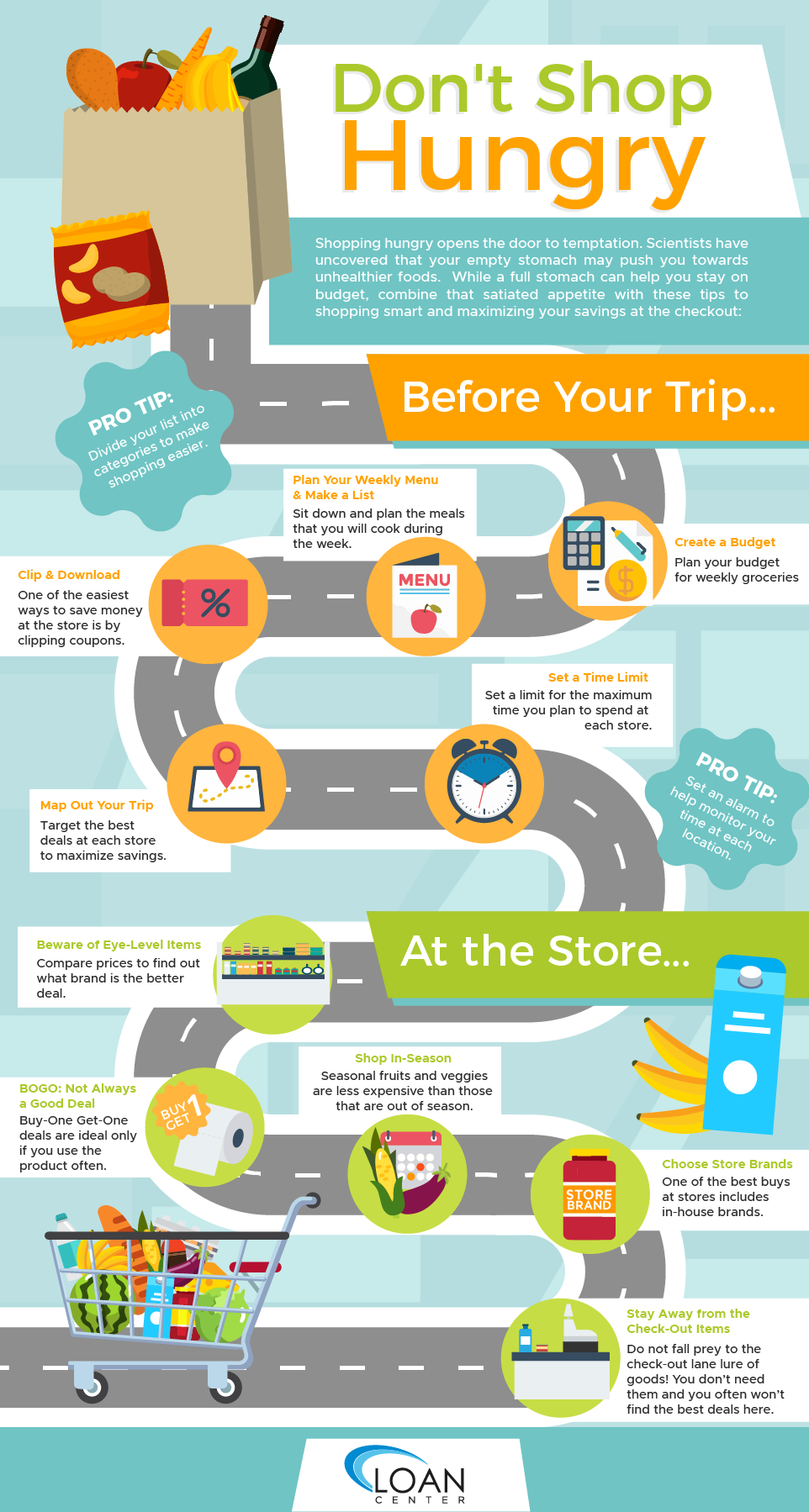 Even if you've made your shopping list and filled it with lean meats, veggies and fruits, those sweet delectable cookies, donuts and fried foods will be calling your name. That growling stomach will lead you to poor choices and maybe even bust your weekly food budget! Yes, according to an article at Forbes, you're more likely to spend more money shopping hungry, too!
The double-impact to your waistline and your wallet isn't worth the hunger pangs and the guilt of buyer's remorse. So before you start that weekly shopping trek, eat a snack or a balanced lunch to minimize the risk of the high-calorie, budget wrecking impulse shopping spree. While a full stomach can help you stay on budget, combine that satiated appetite with these tips to shopping smart and maximizing your savings at the checkout:
Before Your Trip…
Create a Budget
Plan your budget for weekly groceries! This is one of the most valuable ways that shoppers can wrangle in their finances. If you know you only have $200 each week for your groceries, then you are more likely to limit your cart to only those items you need. Sit down and look at your income, then figure out what you can (and should) budget for food and other household must-haves.
Hands-On Tip: Reign in spending by paying with cash.
Once you know your weekly or bi-weekly spending limit, head to the bank and withdraw that exact amount. Paying with cash means that you must stay within your means, and you may be less likely to impulse buy.
Tech Tip: Use apps to create a budget!
If you have no idea how to budget, you can download many apps online like Goodbudget Budget Planner or Intuit's Mint: Personal Finance & Money to help track and allocate your expenses.
Plan Your Weekly Menu & Make a List
Before you head out the door, sit down and plan the meals that you will cook during the week. Once you've detailed your weekly menu, then you know what you need to buy. Make a list of all the ingredients you need and then add in household necessities as well as breakfast, lunch and snack items.
Tech Tip: Use apps that help simplify your shopping list and your weekly menu!
FoodPlanner app lets you save recipes from your own stash or from your favorite websites. Use your recipes to make your grocery list and plan your shopping trip!
Mealime app helps you plan a healthy at-home menu (the app has LOTS of recipes) and make your list for shopping.
Eat This Much also lets you plan your meals and create shopping lists and has a calorie calculator. This app even lets you create a plan based on specialized diets like Ketogenic, Mediterranean, Paleo, etc.
Pro Tip: Divide your list into categories to make shopping easier. Use different headings like produce, meats, snacks, etc. to sort your list and make the trip easier.
Clip & Download
One of the easiest ways to save money at the store is by clipping coupons. However, becoming a coupon queen (or king) doesn't mean that you need to take every discount you see! While some individuals grab up any coupon they can find, most shoppers should stick to clipping coupons on the items that they need or know they will use. Comb through sales circulars or browse web sites like Coupons.com to find savings on your favorite brands or must-have items.
Tech Tip: Download Coupon Apps to Snag the Best Offers!
SnipSnap lets you photograph your coupons and save them on the app to use at the register. The best part? The app also allows your friends and family to share coupons they clipped for your use as well. There is also a database where you can search for more coupons! Yes, the app also is available on Android.
The Shopkick app offers shoppers a unique opportunity to help save money over time. The app requires you to engage in challenges or product scavenger hunts to earn points. These points can be redeemed for gift cards for your favorite store! While using the app may take extra time during your shopping trip, the gift cards you earn may help you save a little money on your next trip.
Flipp offers access to store flyers and coupons. And, yes, you also can customize a shopping list.
Pro Tip: Join your store's rewards program!
Some stores offer savings to insiders through rewards programs. These programs are often free and offer numerous benefits and savings. If you shop a store often, join the rewards program!
Map Out Your Trip
Shopping at one store may be your only option, depending on your location. However, if you have multiple stores in close proximity—we're talking a five-mile radius—target the best deals at each store to maximize savings. Planning and staying on task at each store is the key to saving money, so you absolutely need to know what you'll purchase at each stop.
Use your coupons or circular ads to pinpoint the best deals for the items you need (not want…NEED!). Then sort the coupons by store, if applicable.
Color code your list with highlighters that represent each store you plan to visit. Maybe blue is Walmart, pink is your local grocer, yellow is Trader Joe's. Since you've already created your shopping list, you need to mark where each item will be purchased. If you are unable to highlight on an app, then transfer the list to a Word Doc.
Pro Tip: Experience will help you save.
Over time, you'll begin to learn where you can score the cheapest deals on different items. Stores that offer private label only products (like Aldi's or Trader Joe's), often have the best prices on staples like dairy and eggs.
Set a Time Limit
Shopping shouldn't be a race, but you should set time parameters. The longer you linger in a store, the more you may be tempted to buy items you just don't need. After you've mapped out your store stops, set a limit for the maximum time you plan to spend at each store. Yes, wait times in the line may vary, but your actual shopping time should be limited.
Pro Tip: Set an alarm to help monitor your time at each location. You might not hit your time goal every trip, but the reminder will help keep you focused on your list.
At the Store…
Beware of Eye-Level Items
Stores are savvy with product placement. Certain products are often located at eye-level to entice you to buy those brands. According to CBS News, these items are the ones that make the most profits for the store. Look up and look down when you're shopping for any item. Compare prices to find out what brand is the better deal, and don't grab the first item you see! Also, this rule applies to kids as well as adults. Stores often lure kids by placing items at their level. Sneaky? Yes, but it's also quite effective!
BOGO: Not Always a Good Deal
Buy-One Get-One (or BOGO) deals are ideal if you use the product often. Think household cleaners, paper products or favorite food items. However, even if that BOGO deal cuts the price, don't buy items just because they are on sale. Do you need two bags of cookies or potato chips? Or do you want them? While sales are enticing, they can lure you into buying larger quantities of low-nutrient and high-calorie items.
Shop In-Season
Seasonal fruits and veggies are less expensive than those that are out of season (and imported). When planning your weekly meals, embrace recipes that utilize the season's flavors. Not sure what's in season? No worries! The Seasonal Food Guide is an app that tells you all the seasonal produce for your state. You can sort by produce type and by month.
Choose Store Brands
One of the best buys at stores includes in-house brands. The packaging for these products may look blah, but they are often comparable in taste to more expensive brand-name buys. Take a chance and try your store's house brand to help trim your budget! If you're a little unsure about swapping out your name brand item for a surprise generic, try easy swaps first. Brand name breakfast cereals often have lesser priced dupes packaged under private labels. Another secret? Milk packaged under a store name may actually come from the same dairy as that name brand. U.S. News & World Report also notes that pantry must-haves like spices, flour and sugar are better off purchased as off-brand labels. The same is true for pain relievers, as the generic label is subject to just as much scrutiny from the FDA as the name-brand equivalent!
Stay Away from the Check-Out Items
Oh, those check-out lanes offer a host of extra goodies. Candy bars, gum, make-up, cell phone chargers. Do not fall prey to the check-out lane lure of goods! You don't need them and you often won't find the best deals here. This is the impulse-buy destination. The store is looking for you to make a hasty unplanned purchase. Stick to your list and don't budge! You also may score a better deal buying multi-packs of gum or candy found elsewhere in the store, as one-off purchases like that single candy bar are usually more expensive.
Shopping hungry puts you at risk for overspending and taking home a cart full of unhealthy foods, but there are other factors that can make and break your budget and your waistline. Most grocery stores are designed to put prime money making products in our eye line, and BOGO sales, pretty packaging and goody-laden checkout lines prime us to buy more. Shop smart by making a grocery list, knowing your budget and pricing products to ensure that you are, in fact, scoring the best deals. And always remember to eat a snack before shopping, because a growling stomach is a budget's worst enemy!