When Did Using Car Seat Belts Become Mandatory?
Everyone has heard the stories from their parents about the simplicity of life 'back in the day.' Whether 'the day' was the 1960s, 1970s or maybe even the early 1980s, somehow the past is always rooted in some glorious nostalgia…or perhaps even a little recklessness. Back in the day, kids walked miles in the snow to get to school. Back in the day, they played until dark without supervision. Back in the day, they rode bikes and skateboards without a helmet. And back in the day, no one used a seat belt…and babies didn't need a car seat.
Unfortunately, new parents may find the 'back in the day' stories at war with their own beliefs on child rearing, but nothing is more problematic than when those nostalgic stories about the past also conflict with safety. And, as all parents now know, the car seat for the baby is non-negotiable! And so are booster seats and seat belts for older kids! Of course, adults need to buckle up, too!
Today's parents—and even those in the 80s and 90s—know that child safety recommendations have evolved dramatically. From padding the edges of tables and fireplace ledges to popping safety plugs into outlets and even forgoing crib bumpers, the advice on how to keep babies (and kids) safe requires parents to constantly review their own methods as recommendations change.
One of the biggest changes through the years has involved car safety and the use of seat belts and car seats. Before the 1980s, parents could leave the hospital without buckling up baby in a safety seat; instead maybe mom would hold the newborn in the front seat—secured only in her arms. The idea of this now—that a new mom would hold her baby in the front seat instead of buckling the newborn in a car seat—is enough to give new parents a panic attack.
Car seats for babies, booster seats for toddlers/young children and seat belts for all older passengers are now the safety norm, and they serve as the ultimate protection to keep everyone safe in the event of an accident. But it is true that 'back in the day' there were no laws requiring any one to buckle up or for parents to use a car seat for their newborn or infant.
So when did the rules change? Here's a brief history…
Buckling Up Baby: Car Seats and Booster Seats
According to Good Housekeeping, car seats popped up during the 1940s. But safety wasn't their main objective, and parents weren't required to use them. Instead, they were a type of booster seat.
Car seats were used for decades after their introduction, but, again, protection wasn't the issue or necessarily the objective. According to Saferide4kids, the first car seat that was designed for safety was introduced in 1962. Again, though, no laws required parents to use these seats. The site also notes that federal standards for car seats didn't even come into play until the early 1970s.
Still, while seats were being used by some parents, not everyone bought one. Maybe they weren't even in the budget. And, as new parents know, if something isn't the 'standard' not everyone will use it. Without any laws to govern their use, many babies were still being carried to the car and nestled in mom's arms during that first car ride.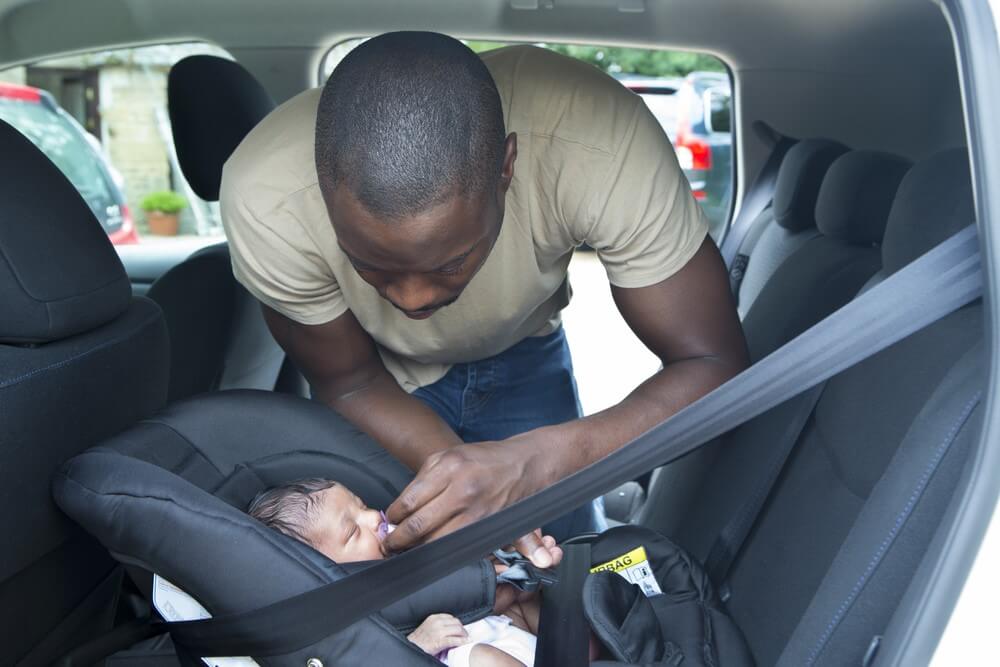 Safety Becomes Standard: The Rise Car Seat Laws
So when did the laws guiding child safety in the car begin? Tennessee was the first state to require that children be properly secured in the car. And that law was passed in 1979. Tennessee also passed a law in 2016 that requires a booster seat to be used up to the age of 12 or for children under a height of 4'9" (Tennessee doesn't mess around!).
According to a study titled "Child Passenger Safety Laws in the United States, 1978–2010: Policy Diffusion in the Absence of Strong Federal Intervention," by 1986 all states had laws mandating the use of car seats. And that same study notes that many states started enacting booster seat requirements in the early 2000s.
Today the idea of NOT using a car seat for an infant and a booster seat for toddlers and children seems insane. Safety restraints are the norm, and parents know that using a car seat or a booster seat is non-negotiable.
While, yes, 'back in the day' car seats and booster seats weren't used, children and babies also were put in a position where mortality was very much at risk. And while many grandparents and those in older generations can proudly proclaim: "And you turned out just fine," there were many children and babies who did not survive car crashes. In 1975, more than 3,600 children (less than 13 years old) died in crashes; in 2017, that figure dropped to 939.
Car seats keep kids safe. And history proves it. But adults need to buckle up, too. And, of course, this also wasn't always the case 'back in the day."
Buckle Up for Safety!
According to the Insurance Institute for Highway Safety Highway Loss Data Institute, 49 states have some type of "mandatory safety belt law." The lone state that doesn't have a law? That would be New Hampshire.
But, again, there was a time when no state required the driver or passengers to wear a seat belt. So when did buckling up become law? According to the Centers for Disease Control, New York was the first state to mandate safety restraints…and that happened in 1984. The CDC notes that all states—but, again, not New Hampshire—were on board with seat belt laws by 1996. However, per the CDC, these regulations focused on those in the front seat—driver and passenger.
Today, wearing a seat belt is just a given for many drivers and passengers. States vary on how they penalize offenses. And some states might not regulate the use of restraints for those in the back seat. Again, though, the data shows that safety restraints save lives. According to the CDC, of the 23,714 individuals (ages 13-44) who lost their lives an automobile crash in 2016, more than half were not buckled up.
So how do you know what the law is in your state? The easiest way to find your state's law or seat belts and other restraints is to visit your state's health department; a quick Google search should get you there! Whether you're a driver or a passenger, though, you need to know the safety rules. If the law requires your passengers to wear a seat belt, you should not ever let passengers ride unrestrained. But even if the rules are lax, wearing a seat belt protects all lives. And, ultimately, if an accident were to happen—whether you were at fault or not—you want to be sure that your passengers are protected. So before you hit the road, always insist that everyone wear a seat belt. Whether they like it or not!
The Future of Safety Restraints
Through the years, safety restraints in the car have evolved. From no seat belts to a simple lap belt and then a more secure shoulder belt, restraints help to keep us safe in the event of a crash. Car seats and booster seats for children continue to become savvier in design and in their safety features.  Today, the five-point harness is the gold-standard of safety for infant car seats. Safekids recommends that parents review the growth requirements for each car seat, however. As many infant seats only protect baby to a certain weight/height—then it's time to upgrade.
Car seats recommendations may change in your state, so parents should always be aware of any new legislation that guides car seat placement and/or age/height requirements. Again, Tennessee passed new booster seat laws, and states often review safety guidelines and revamp laws accordingly.
While clicking seatbelts is an easy habit, car seats can sometimes throw parents and grandparents (who don't always have a history using them) for a loop. There are specific instructions that guide how car seats are installed, and new parents can have local law enforcement check the seat to ensure that it is installed correctly. Many hospitals offer car seat checks for parents. Proper installation is imperative to ensure that the seat always remains in the proper placement —improper installation could jeopardize the safety of the baby.
Restraining the Bad Habits of 'Back in the Day'
For many parents, the stories of 'back in the day' will be an ever-present reminder of a more relaxed illusion of parenting. But it's important for new parents to dispel the problematic habits of the past as they relate to safety issues. When it comes to baby car seats, booster seats and seat belts, safety is a nonnegotiable rule in the car. Grandparents might find car seats cumbersome, and new parents must make sure that grandparents know how to properly install car seats and restraint systems before they are entrusted with babysitting duties.
Of course, parents also need to set a good example. This means always ensuring older kids buckle up, and parents always need to wear a seat belt, too! We know that seat belts save lives and that car seats and booster seats do as well. Life 'back in the day' might have been simpler, but it wasn't safer. There is no room for nostalgia if it endangers someone's life—especially the life of a child.